(If viewing extract, click on the "Read more about…" link below to see the pictures.)
September 2004 – Life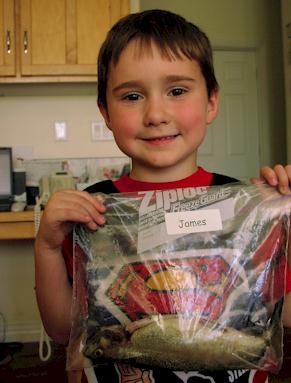 James' Kindergarten class went on their first field trip today (Sept 17, 2004) to Spring Lake. Just about 20 minutes from Spanish Fork. Everyone went fishing and everyone caught a fish! He was so excited! And I was excited that they gutted the fish for me so I didn't have to! We're going to cook it up tomorrow night. I think it's a Rainbow Trout. Should be pretty yummy. We'll roast it over our fire.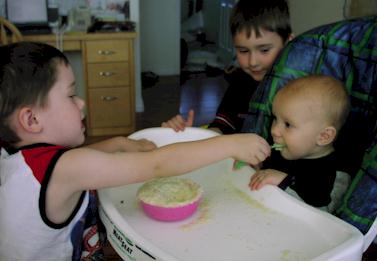 I had just finished feeding Benjamin his cereal, when I heard James calling me from the other room. I went to see what he wanted, then when I came back in the kitchen to a very funny sight. Anthony had dumped rice cereal flakes into the bowl (it was overflowing) and was feeding it to Benjamin. Benjamin kept smacking his lips to get some moisture on the dry flakes. When Anthony saw me come in he got a nervous look in his eyes as I said, "Oh Anthony!" But I reassured him that I wasn't mad at him, and thanked him for wanting to be a good helper. (It's something we've been working on with Anthony…giving him more positive reinforcement…basically trying to catch and praise him for doing something good.)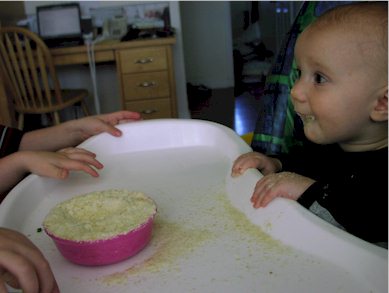 Benjamin smacking his lips from the dry rice cereal.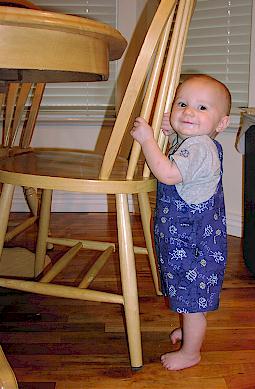 The week after our cruise, Benjamin started pulling himself up. Here you see how happy he is with his accomplishment! Hard to believe that he's almost 8 months.