January 2004 – Benjamin D Berky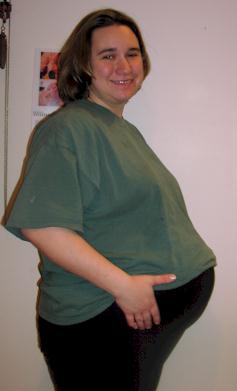 Mommy to be for the third time struttin' her stuff.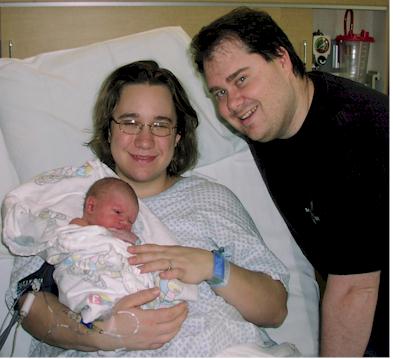 First picture of Benjamin D Berky.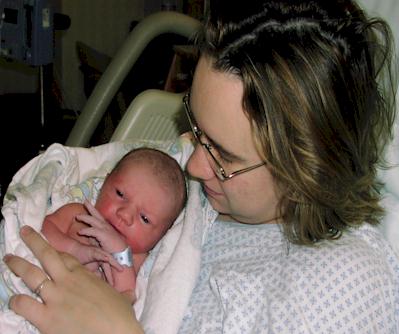 Mom & Me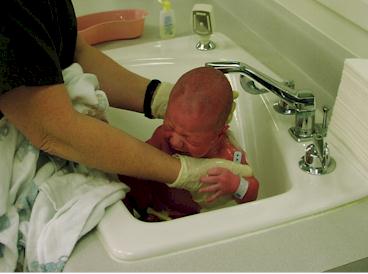 My first bath.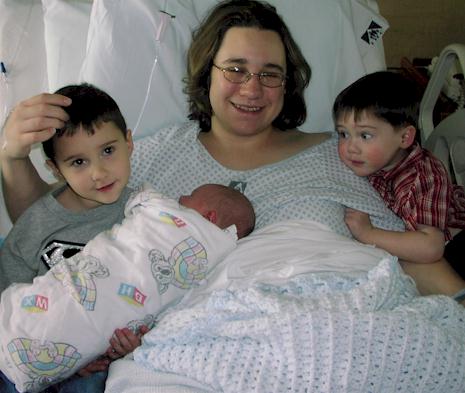 David & LaReita Berky Family v.4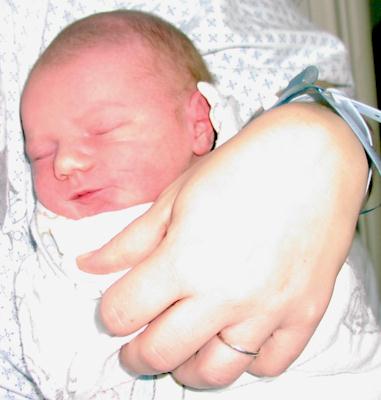 I am the star of the show.
Benjamin D Berky was born at 9:17am, January 21st, 2004 after a thankfully short labor of love by his mother. David & LaReita raced to the hospital at 4:30am when LaReita's contractions began to come regularly and were increasing in strength. On the way (and between contractions) LaReita chided the ever-cautious David for only driving 75 mph on the freeway. (LaReita says: After all, the contractions were 2 minutes apart and lasting 90 seconds!)
Upon arriving they found their way to the Labor & Delivery area of the Utah Valley Regional Medical Center in Provo, Utah, a 15 minute drive from home. They wandered the halls for awhile until finding a nurse on duty who could direct them to a room. LaReita was quickly prepped and was given an epidural by 6am.
Both LaReita and David were able to get some more sleep from 6 to 8:30am; LaReita in comfort from the epidural and David from exhaustion (he needs his 8 hours of sleep). Around 8:30am the nurse came in and LaReita asked for a catheter. Before the catheter LaReita was at 6cm; after the catheter she went to a 10cm. Dr. Nance was called and arrived about 10 minutes later (LaReita swears it was more like 30).
Once Dr. Nance arrived at 9:10, it only took 5 pushes for Benjamin to take his first breath. As Dr. Nance began to examine him a portion of his umbilical cord ruptured and a gush of bright red blood squirted all over the delivery room. ("Just like in ER" David was heard to comment later.) The incident posed no threat to mother or baby, but Dr. Nance was going to need some new clothes.
Dr. Nance allowed David to cut the umbilical cord and Benjamin was cleaned, checked, weighed, measured, poked, prodded, given a shot and wrapped up to be placed in the arms of his mother for the first time. Later David went with Benjamin into the nursery so he could be checked more thoroughly, given another shot (he only cried for a minute to the pleasure and pride of his dad) and then given his first bath.
Later several family members arrived to meet their new relative. LaReita's mom, Grace Leavitt, came with Aunt Julie (David's sister) and brought Benjamin's brothers, James and Anthony. James couldn't wait to hold his new brother. Anthony couldn't wait to play with the buttons on mom's bed.
Benjamin weighed 8 pounds and 7 ounces, was 21 inches long and scored a 9 and 9 on his APGAR baby exam scores (1-10 scale).
James and Anthony are excited for their new brother to come home and play.